Our Dedication = Your Success
We are licensed to practice in South Dakota, North Dakota, Nebraska, Minnesota, Missouri, Iowa, Alaska and United States Tax Court as well as Rosebud Sioux, Oglala Sioux & Cheyenne River Sioux Tribal Courts.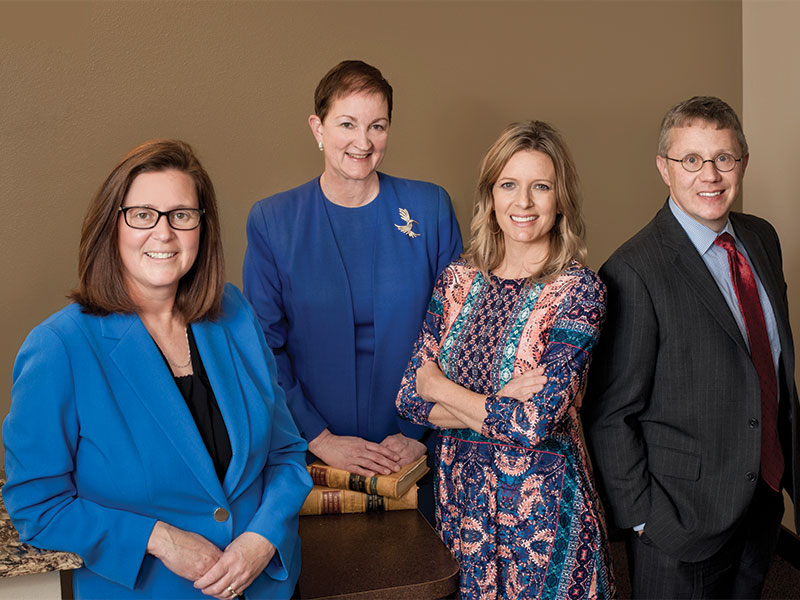 Sarah E. Baron Houy, Partner
Education:
J.D., University of Missouri-Columbia School of Law, top 25% (2006)
B.S. Business Administration (Marketing Emphasis), University of South Dakota, cum laude (2002)
Admissions:
South Dakota, Missouri, U.S. District Court of South Dakota, Eighth Circuit Court of Appeals, United States Supreme Court.
Sarah is a partner in our Sioux Falls, SD office, but she spent her first 11 years of practice in our Rapid City, SD office. Sarah practices in a variety of settings, including employment disputes, civil rights cases, general civil litigation, federal criminal defense, and family law. She has significant experience with trial work, mediations, arbitrations, and appellate advocacy. She is a member of the Access to Justice Panel and the Criminal Justice Act Panel, providing pro bono and court-appointed assistance to indigent persons who are involved in civil disputes or have been charged with a federal crime.
Sarah holds an AV Rating from Martindale-Hubbell. She has been the recipient of multiple awards, including Pro Bono Attorney of the Year (PCBA, 2010-2011) and Outstanding Young Lawyer of the Year (PCBA, 2016). She is active in the State Bar and serves on the Labor & Employment Law Committee, the Lawyers Concerned for Lawyers Committee, and is co-chair of the Legal Services Committee. She has guest lectured for numerous law-related undergraduate courses and regularly serves as a faculty member for National Business Institute at employment and labor-related legal seminars.
While in law school at Mizzou, Sarah served as a Research Assistant for an endowed, tenured law professor, and she spent most of her free time conducting research on matters related to judicial review, FOIA, National Security Information Classification, Executive Privilege, and the First Amendment. She received numerous awards for her academic accomplishments, including high achievements in Estates and Trusts, Business Organizations, Insurance, and Trial Practice. After law school, Sarah spent a year clerking for the Fifth Judicial Circuit in northeast South Dakota before joining Bangs McCullen.
Outside of the office, Sarah enjoys cooking, working out, and spending time with family.
Victoria M. Duehr, Partner
Victoria M. Duehr graduated from South Dakota State University in 1991. She attended the University of South Dakota School of Law and graduated in 1995 with Sterling Honors. Following graduation, she clerked for Judges in the Second Judicial Circuit of South Dakota. She practiced in Brookings, South Dakota, until joining Bangs McCullen law firm in 2003.
Her practice concentrates in the areas of family law and civil litigation.
Jeff L. Bratkiewicz, Partner
Jeff has an active and eclectic litigation practice. His most notable cases have required creative problem-solving in the face of challenging and complicated facts and legal issues. Jeff's clients value his strong work ethic, strong oral and written communication skills, his ability to quickly identify the key issues in a case, and his sense of humor.
Jeff is licensed to practice in state and federal courts in South Dakota, Iowa, and Nebraska. He has extensive courtroom and trial experience, participating in over eight civil jury trials and three appellate arguments in the past six years. His most notable cases have been in the areas of medical malpractice defense, product liability defense, personal injury defense, construction and contract litigation (both plaintiff and defense), insurance law, constitutional law, zoning ordinance disputes, business litigation, and the representation of individuals and businesses in-state sales, use, and excise tax matters, including contested case litigation.
Jeff attended South Dakota State University and earned his law degree from the University of South Dakota in 2000. After completing law school, he spent two years as a law clerk to the Honorable Lyle E. Strom, a Senior U.S. District Court Judge in Omaha, Nebraska.
Jeff joined Bangs McCullen in 2015. Before joining the firm, Jeff was a litigation attorney and partner in an established Sioux Falls law firm. Jeff has civil jury trial experience in state and federal trial and appeal courts. Jeff has an AV rating from Martindale-Hubbell and was recognized as a Great Plains Super Lawyer in 2014, 2015, and 2016.
Jeff is grateful to be an attorney and considers it a privilege to represent his clients. His passion, however, is spending time with his family. Jeff lives in Sioux Falls with his wife, Heidi, and son, Sam. He also enjoys running and swimming with Sam and coaching him in baseball.
Kathryn J. Hoskins, RN, JD, Attorney
Kathryn works as a trial lawyer and litigation attorney in the firm's Sioux Falls Office. She represents clients throughout the State of South Dakota, where she is licensed to practice in State and Federal Courts. Her educational background and training is in Nursing. She earned her Bachelor of Science Degree in Nursing from Augustana College in Sioux Falls and worked as a full-time critical care nurse both before and during law school. The character traits that made her an excellent nurse (a strong work ethic, compassion and kindness, and meticulous attention to detail) have also provided the foundation for her successful litigation practice that involves defending medical malpractice cases and representing medical professionals in regulatory and professional licensing matters.
Kathryn is specifically sought out by prospective clients due to her significant civil jury trial experience and her background and knowledge of medical issues, and the medical profession in general. Kathryn is still a licensed Registered Nurse but applies her special education and training in representing her clients. She is best known among her peers and her clients for her successful defense of medical malpractice cases, but her practice also includes all areas of the medical profession, including nursing home and home health care liability; medical device product-liability defense; and pharmaceutical defense. Her experience and success in litigating cases involving the medical and healthcare professions have also prompted clients to seek out her services in defending professional liability cases involving architects, accountants, and attorneys, and complex civil litigation cases.
Kathryn is among a group of select trial attorneys elected to membership in the American Board of Trial Advocates (ABOTA). She holds an AV rating from Martindale-Hubbell and is also a member of the Defense Research Institute (DRI), as well as the South Dakota Defense Attorneys Association and the South Dakota Trial Lawyers Association.
Outside of work, Kathryn enjoys spending time with her family. Together with her children, Kathryn is also a small business owner and operator of a rental property and self-storage business. Establishing and being part of a family-owned business has given her unique personal insight into the legal issues that challenge small businesses.
Bangs McCullen Law Firm
Rapid City Office
333 West Blvd #400
Rapid City, SD 57701
Phone: 605-343-1040
Hours
Monday - Friday
8:00 AM - 5:00 PM
Saturday & Sunday
Closed
Bangs McCullen Law Firm
Sioux Falls Office
6340 S Western Ave #160
Sioux Falls, SD 57108
Phone: 605-339-6800
Hours
Monday - Friday
8:00 AM - 5:00 PM
Saturday & Sunday
Closed The information on this website is for general information purposes only. Nothing on this site should be taken as legal advice for any individual case or situation. This information is not intended to create, and receipt or viewing does not constitute an attorney-client relationship.